Choose the best CCTV Perth camera systems for your property
Get only the best quality CCTV installation in Perth by Rapid Alarms. Using only the best brands and products we can design a system that keeps you and your property safe:
✅ We take your requirements and design a system that works for you
✅ Verify your alarm activation with high definition video
✅ Create a visual crime deterrent around your property
✅ Monitor the perimeter of your from the safety of indoors
Whether it be for your home or business, having a quality CCTV system installed is a proven way to deter crime on your property, a quality installation will not only protect your property, it can also lower insurance premiums and aid in the conviction of criminals in your premises immediate area. Get in touch with us to discuss your options or take a look at our CCTV packages to find out more.
Types of CCTV cameras
Turret Cameras – Similar to the dome camera, the turret camera ensures clear night vision images with no infrared reflection back into the camera lens.

Dome Camera – Dome CCTV cameras are discreet looking and great for vandal resistant installations.
Bullet Camera – Bullet CCTV cameras are a great visual deterrent and boast stronger night vision power than dome or turret cameras
PTZ Camera – PTZ CCTV cameras are large and a great visual deterrent, they also can be panned, tilted or zoomed onto object for a superior image quality.
        
Home CCTV Cameras
Home CCTV camera installation cost has been greatly reduced over the last 10 years. This makes having a CCTV security system affordable for most families. Our police licensed security technicians have installed thousands of cameras in residential homes in Perth over the last 15 years.
We have the best buying power with our wholesalers and all support us with a local manufacturer warranties which we pass on to each customer, some of our CCTV installation brands include:
✅ Hikvision
✅ Dahua
✅ Uniview
✅ Hanwha Co LTD (Samsung)
✅ Bosch
We realize that not all CCTV systems and manufacturers are the same. Each having their own sets of pros and cons
CCTV System FAQ
How much does a CCTV installation cost?
The cost of a CCTV installation can vary greatly depending on the type of house and location of the security cameras and network video recorder. Houses with a good roof pitch and free access to run cables through the roof space make the installation costs less than a double-story building with minimal roof access.
If roof access is minimal, having a tiled roof rather than tin helps pull cables through tight areas as tiles can easily be removed providing access from on top of the roof.
What are the most popular security cameras in Perth?
The most popular CCTV cameras in Perth would have to be Hikvision, Dahua & Uniview, these are three Chinese brands which offer great product warranties and are both affordable and durable. Make sure you are buying genuine products as there are some vendors out there importing grey market products with pirated firmware which can cause you problems later on when upgrading or replacing parts on your CCTV system.
How to choose a security CCTV installer in Perth?
All security installation companies in Perth must hold a valid security agents license and each installation technician must hold a valid security installers license and cabling license. This should be checked when engaging a security company in Perth to perform work for you. Additional to this check online reviews and ask for some contact details of some of their previous customers to cross check reviews.
What is the difference in Megapixels?
The number of megapixels in a security camera determines the resolution of the camera, it is also import to ensure your CCTV recorder can record your chosen camera at full resolution. The higher the resolution the sharper the image during daylight however a higher resolution camera will require better infrared lighting at night to keep the image from becoming noisy.
How long does the camera system store recordings?
When designing your security camera system with your security company, consider how many days or weeks worth of footage you will require before the camera recorder overwrites itself, your security company will then ask if your require full time record or motion record, once this information is received your security representative will then decide which hard drive size and how many hard drive bays are required to meet your requirement.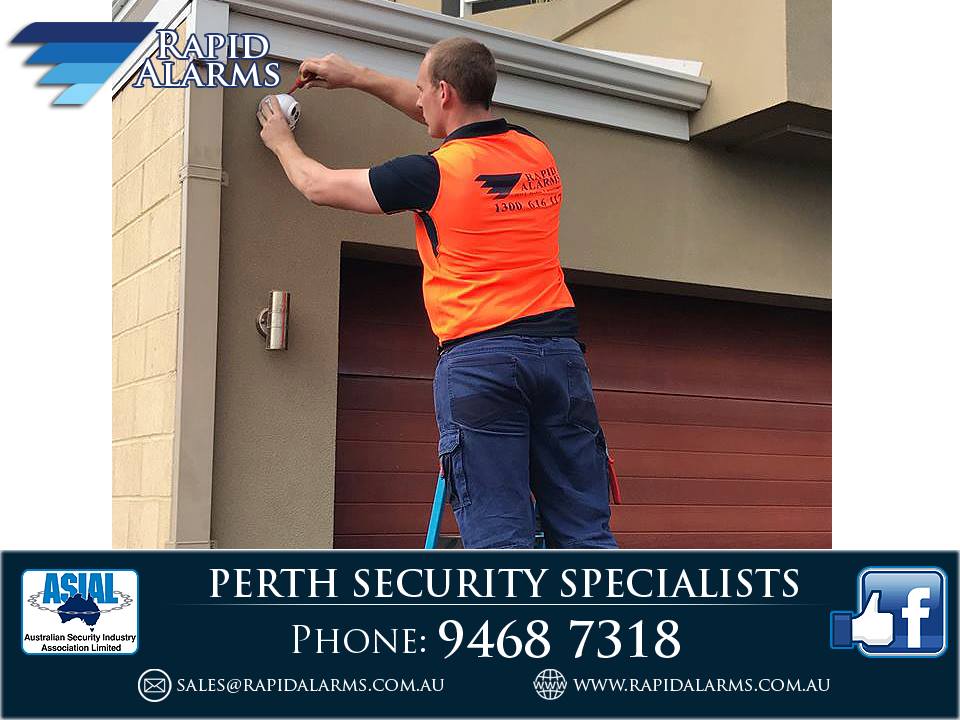 Rapid Alarms has been able to save our business thousands of dollars with there extensive industry knowledge.
Its great being abke to speak directly to the owner of the business who at the same time is hands on.
The best part is the great customer service and consistant follow up.
We've been using Rapid Alarms for 5 years now, have done 3 businesses and 3 houses. Always makes sure work is always done to quality standard. Have recommend to many in the past and will continue to do so.