Video Intercom Systems in Perth
Do you have an old video intercom system in Perth? Want to see who's at the front door or at the gate within the safety from your home with HD images? Rapid Alarms are here to help you to choose the right home intercom system in Perth. Whether you want to answer the front door from your kitchen or anywhere in your home or business, we have the answer for you! We have different options when it comes to intercom systems wireless or  a hardwired setup. With a IP video intercom system we can set it up to call your phone if you are not home so you can still answer the door anywhere in the world!
Request a Quote
How can you benefit from Intercom Systems?
Choosing the right intercom system for your home or business can be hard not knowing what product to go with. We provide quality wireless and wired intercom systems. We have many clients with Alarm systems & CCTV systems but they find that is not enough because they are unable to see who is at the door. With a home intercom system you can answer the door from the safety of your own home. Crime is on the rise in Perth so having a quality intercom system can protect you and your family from any unwanted visitors without having to open your front door.
Benefits of a Intercom system:
✔ Safety
✔ Be notified who is at the door
✔ Peace of mind
✔ Keep the family safe
✔ Unlock the door from anywhere in the home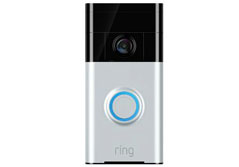 Ring.com Wireless Video Doorbell
The Ring.com wireless doorbell is a great solution for your home intercom needs, it can be both battery operated or mains powered, with communication to your home network via Wi-Fi.
The Ring app allows you to answer your doorbell from anywhere in the world using the 2 way audio and video feed to be able to communicate.
The doorbell also has motion detection functionality so you can choose to receive alerts whenever there's is motion at the door.
1080 HD Camera.
Can be mounted at any height you like.
Use the Ring app to view live footage to see who is at the door.
It has motion detection functionality so you can receive alerts whenever there's motion at your front door.
It is powered by an included lithium battery which you can easily recharge as necessary.
2 & 4 Wire Intercom System
Looking for a intercom system in Perth for a home or business can be an overwhelming task without the right information. A wired intercom system allows you to communicate instantly with each other through a simple push of a button. No need to yell across the house or office space when you can do it all with one push of a button. When someone arrives at the door they press a button which will alert the people inside which you can talk and view the visitor using the indoor station which has a speaker, microphone and a 7″ monitor. Some indoor stations have a "door release" feature which will allow you to unlock your door with a press of a button. With a hardwired home intercom system there is no need to keep the batteries charged like a wireless system. Once it is installed just use and enjoy the system.
Home Intercom systems can help eliminate any potential vandals, trespassers and can reduce break-in's.

IP Intercom System
When compared to the older analogue video intercom systems, the IP video intercom system offers an smarter and impressive functionality, allowing visitor calls to be re-routed to their smart phones if the individual is not home allowing you to be able to speak to them remotely and even unlock the front door via your phone!
The performance quality of the IP intercom system offers a 1.3 megapixel camera for great viewing so you will no longer experience pixelated images on your video handset. You will also no longer experience poor sound quality like the older analogue video intercom systems.
With a 7″ handsfree touchscreen audiovisual indoor station and a sleek elegant flush mount slimline brushed aluminium outdoor station the Hikvision Intercom system offers a very simple user functionality with a one push call button.
The IP intercom system works well in both home, commercial and apartment complexes and those organisations that can expect visitors and customers throughout the day.
Home Intercom Systems
A home intercom system is well worth the investment whether you choose a wireless or hardwired. Home intercom systems are more useful now days then what they were 10 years ago with technology rapidly advancing making home intercom systems more popular and user friendly. A home intercom system is great security for your home providing safety and protection to you and your loved ones without having to open the door to unwanted visitors.
A home intercom system generally has one entry door station and one indoor monitor however larger home can have multiple indoor stations which can also intercommunicate with each other so no more yelling across the house.
Commercial Intercom Systems
With so many option, style and features of a commercial intercom system can be difficult to choose from. Today's intercom systems can do more then just communicate they can also open doors and control lifts allowing the tenant to give access for visitors who visit the complex. The visitor can either call your apartment number or use a single push button to directly call the tenant in the apartment or building. A commercial intercom system consist of a main out door station and a internal station with a monitor (depending on how many are required within the complex).
A commercial intercom system is great for business's providing safety for your staff & employees. If your building is restricted to visitors who comes and goes the receptionist will be able to speak to the visitor and let them into the building using the intercom system with a one push button function to open doors, gates & even lifts to allow access into the building. With safety being on the top of every business's list having a quality intercom system makes complete sense.
Our video intercom system operation videos:
"Been using rapid for 5 years now, have done 3 businesses and 3 houses. Always makes sure work is always done to quality standard. Have recommend to many in the past and will continue to do so."
"Best company to have had done security work at our house before holidays installed Ring CCTV Video doorbell. Excellent service and knowledge of the security systems. Highly recommended to any one requiring video surveillance in the ever increasing risk to our property and person from the bad guys. Well done guys."
PHONE
(08) 9468 7318
EMAIL 
INFO@RAPIDALARMS.COM.AU
ADDRESS 
67 HOWE STREET,
OSBORNE PARK WA 6017