Intercom system has come a long way in the last 15 years, from the first audio only system which were very large in size
. To sleek elegant designs in almost all products offered to the market today.
With crime on the rise having an intercom system not only serves as a convenience but also as a layer of security within your home and business
. Being able to speak and see your guests is a great way to identify people before opening doors.
Variations of Intercom System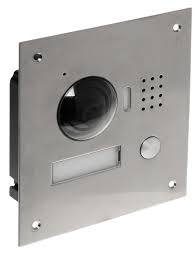 There are generally two different types of intercom systems to choose from.
Some of these include, Audio only intercoms and Audio and video intercoms, both often have an unlock feature where the person inside can unlock the door or gate to let the visitor in
.
If the unlock function is to
be used
either a
n electric lock will
be required
or a signal cable to a sliding gate controller
.
Wiring types of intercom systems
The first and
traditionally
most common form of intercom communication is hard-wired, this is when the internal handset in hard-wired to the entry station at the gate
. This type runs off mains power and is generally the most reliable.
Secondly
you can opt for a wireless intercom, these systems are generally battery operated and higher long term maintenance
.
The main benefit to installing a wireless intercom is your installation costs will generally be lower than a hard-wired intercom
.
It should
be noted
that some environments are subject to wireless interference when choosing to have a wireless intercom installed
.
Additional
Features on intercom systems
Intercom systems have a few
additional
features which are available with some models and should
be taken
into consideration
.
Some of these features include the ability to ring through to your mobile phone if the call is not answered within the premise
.
Certain models have the ability to store snapshots and messages of missed calls and can have the camera integrated into CCTV systems
.
Hopefully
the above information helps you in making your choice of intercom system, if we can be of any further assistant please don't hesitate to contact us
.