If you want to learn how to make your home an unsuitable target for burglars, we've got a few protective tips in store for you. In this article, we will be discussing what exactly burglars look for, how they act, and some pointers on avoiding being their next victim. 
The first thing you must know is that some burglars are skilled and experienced at what they do. They can be anyone, so you must not leave anything to chance when it comes to protecting your family and property.
What do burglars look for?
Most burglars look for easy targets, such as an empty property, lax security, and of course, any signs of valuable items stored inside the house. They also often prefer a remote area away from neighbors or any security establishment.
These criminals even tend to creep into accessible hiding areas within the property. They often include the backyard when they scout a potential property for the next job. Unsecured garages or sheds might be perfect for them to take cover when they plan to break into your property, whether during daylight or at night. 
While these areas may seem ideal to most burglars, some would still target hard case properties if they're filled with supplies such as expensive home items, money, and other valuables. If you don't want to be considered a high target, you need to be careful when moving valuable possessions into the house.
How to Stop Burglars from Targeting Your Home
To prevent having to deal with burglars in the future, you should be smart with how you design your outdoor furnishings and install all necessary security measures for complete protection. Keeping your windows, doors, and other entry points locked is just the first line of defense. 
Home Alarm Systems
It is easy to see why people feel the need to install alarm systems in their homes. Not only do they help to protect belongings, but they can be used as a deterrent against crime in general. The crime rate in many cities and neighborhoods is exceptionally high, and there are no signs of it dropping. Unfortunately, criminals know this and take advantage of it every day.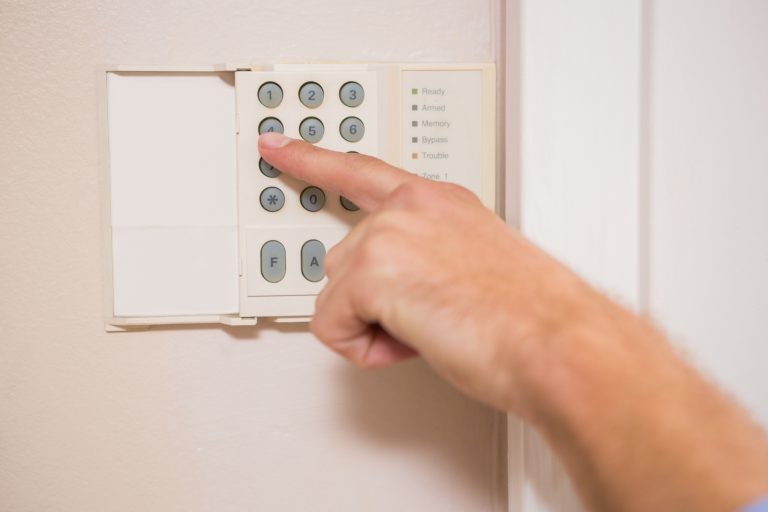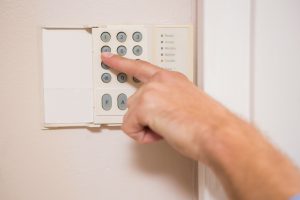 Today's home security systems are among the most significant features that protect houses from burglary and signal alarms for other threats like smoke and fire. Here are some suggestions that will help you secure your home against theft through home alarm systems.
With a home alarm system, you can be sure that you can protect your property against such things that can lead to accidents, damages, and loss. 
One of the most vital tips to stop burglars from targeting your home is to place a home security system within your perimeter and make it visible to all passersby. Also, you need to choose the best package suitable for the size of your house and entire lot.
Perimeter Alarm Security
To cover the whole lot with alarm systems, you should focus on securing your property's perimeter. 
Many cities and local communities require residents to install motion-detecting alarm systems, so you should ensure that they are installed in a high point outdoors like the ceiling, doors, windows, fences, and garage doors. 
Also, get a security check: Many local police agencies offer free consultation and send a specialist to test your house for weak points. Losing key-in-the-knob locks is particularly common for homes in high-crime areas. You may also want to consider security camera systems to inform burglars that your place is monitored 24/7.
Wireless Alarm Systems
One of the best home security systems available today is wireless technology. Wireless systems are extremely easy to install and require little monitoring or maintenance. These systems typically include sensors for doors, windows, and lighting, as well as several alarms. While some of these systems come with pre-installed detectors and alarms, it is strongly recommended that you add your own. Most modern wireless networks have at least a two-way voice, which means that someone is always heard over a radio channel (either on your home telephone line or a separate security channel).
Additional Tips
In addition, you should always keep your keys and other valuable items somewhere where only you can easily find them. 
Always carry your phone with you, because you're going to need it when the time comes that you have to use it to call the security or police. 
With some simple steps, you can protect your property and make it more difficult for thieves to enter or gain access to your property. If you don't want to become a victim of a crime, it is important to contact a home security specialist. 
When do burglars commonly target homes to break-in?
Most burglars plan their crimes well before they strike. They usually target houses during vacation seasons, when they know many residents plan long vacations out of town. 
Therefore, you should try to ensure that your home security system includes monitoring to help you deal with the situation when you come home after hours or at night. It will alert you instantly via mobile devices to let you know that your home is being broken into and provide you with detailed reports on what has happened to your house.
Install Home Security To Prevent Burglary
These tips should immensely help you stop burglars from targeting your home, and be prepared if any attempt would occur. It's best recommended to invest in essential security measures to protect your property from burglary.
There are different types of home alarms available in the market, and all of them have their advantages. Get a system suitable for your home requirements to ensure that you have comprehensive protective equipment installed.
Here are a few points to take note of when choosing home security products:
Make sure you pick a product packed with features that can easily fit into your home. 

You should also buy a system that is easy and convenient to install and maintain. 

Make sure you choose a product that is flexible in its installation. This means that it can easily be fixed in your home and does not require any complicated modifications to use it. 

It should also be able to work effectively and provide you excellent home security.
Are you on the market for home alarm security and system monitoring here in Perth? Rapid Alarms offers quick and reliable solutions for your residential or commercial security needs. Contact us here today for your inquiries, and we will accomplish the site inspections to give you an informative quote and have your system installed in no time!